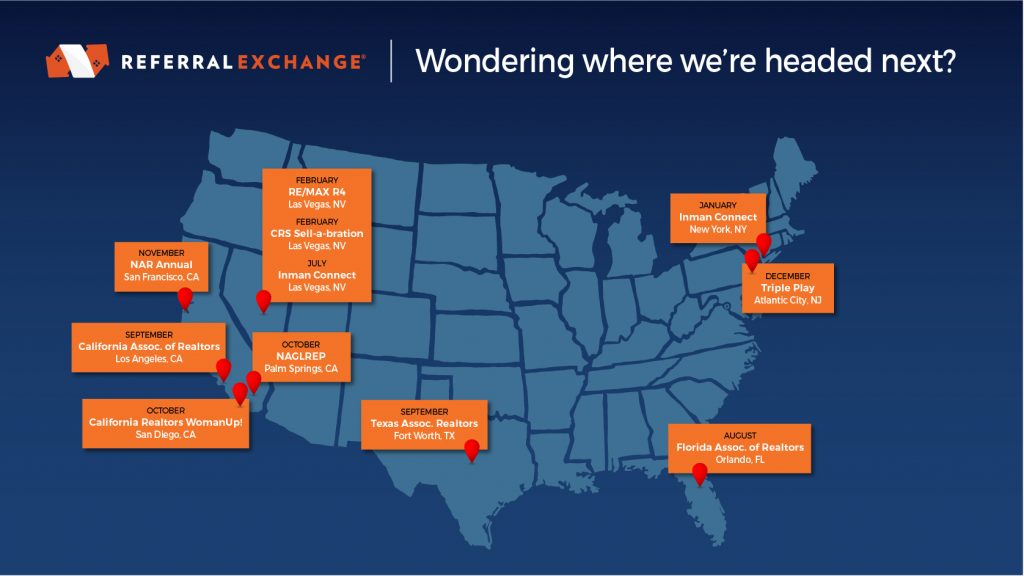 With a new year comes a fresh schedule of real estate events – a chance for us to meet new people, catch up with old friends and connect with the talented agents in our network all over the country. Check out this full list of major industry events from Inman News.
If you're attending any of the below conferences, drop us a line at marketing@referralexchange.com. We'd love to connect!
January: Inman Connect – New York, NY
February: CRS Sell-a-bration – Las Vegas, NV
February: RE/MAX R4 – Las Vegas, NV
July: Inman Connect – Las Vegas, NV
August: Florida Assoc. Realtors – Orlando, FL
September: Texas Assoc. Realtors – Ft. Worth, TX
September: California Assoc. Realtors – Los Angeles, CA
October: NAGLREP – Palm Springs, CA
October: California Realtors WomanUp! – San Diego, CA
November: NAR Annual – San Francisco, CA
December: Triple Play – Atlantic City, NJ
Want more time to build relationships that grow your business? ReferralExchange verifies your leads and referrals, nurtures and gives them back to you when they're ready to transact, and matches those clients outside of your area, price point or property type with three great agents.