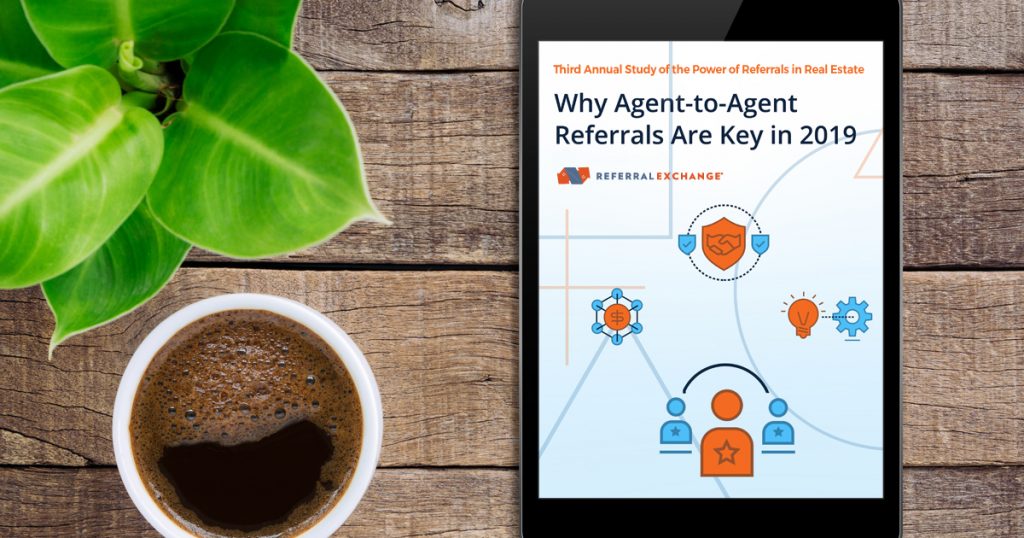 Agent-to-agent referrals are a key part of every serious real estate agent's business — especially as markets slow from peak activity and business slows for many. We recently released our third annual referral report "Why Agent-to-Agent Referrals are Key in 2019" where we surveyed more than 1,200 agents about their referral business, use of social media and the qualities they value in referral partners.
Below are key findings from the report.
The number of agent-to-agent referrals received remained steady in 2018 from 2017. 25% of agents received between 6-10 referrals, and another 19% of agents received between 11-25 referrals last year.
Referral fee earnings were strong in 2018, with some agents earning more than in past years. The number of agents earning between $20,000 and $50,000 in referral fees increased to 20% last year from 17% in 2017. The number of agents earning between $10,000 and $20,000 in referral fees decreased to 17% from 25% the previous year.
Referral networks can pay off. The majority of agents surveyed belong to a referral network. 29% of these agents attributed more than 20% of their overall inbound referrals received to these networks. And 23% said that up to 20% of the referrals they receive from their networks result in a closed transaction.
Social media remains relatively untapped as a source of referral activity. 51% of agents said they're not currently using social media to generate or submit referrals, while 25% said they're using social media to actively generate referrals. Another 23% said they're using social media to both actively generate and submit referrals.
Agents rely mainly on third-party referral networks, brokerages, coaching and association directories for referral partners outside their market. 28% of agents rely on their referral network to find partners outside of their local market, and 23% say they search their brokerage, coaching, and/or association directories when looking for a partner.
Agents have many ways of finding referral partners when needed. In addition to the sources referenced above, agents said they use designation groups (e.g., GRI, CRS, ABR), networking events, cold calling, Zillow reviews, LinkedIn, and many other methods for finding a partner when needed.
Responsiveness and reputation are top qualities in a preferred referral partner. As in past years, agents named responsiveness (44%) as the top quality they look for in a referral partner. Reputation (22%) was second, followed by personal relationships (9%).
Agents care about success and customer experience. 57% of agents said referral partners who have a high chance of closing the deal is most important when placing referrals. But they also place high value in the overall experience the agent provides their referred clients.
In summary, relationships, follow-through, and reputation are top of mind for those agents looking to ramp up referrals in their business. They're constantly looking for ways to build and maintain relationships, consistently following up with past clients, and building their reputations by adding value with every transaction.
Download our report "Why Agent-to-Agent Referrals Are Key in 2019" for a full look.